Or What's the Difference Between Lymphoma Fatigue and Just Being Damn Tired?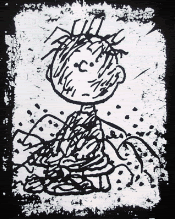 Pigpen in his dust cloud
After my previous upbeat declaration that I was going out and living my life to the fullest, a huge cloud came by and just hung over me like the dust endlessly flying around Peanuts Pigpen. A combination of my own uncertain health issues, the progression of one of my dearest friend's MS symptoms prompting us to form a "meal/ride" chain for weeks and leaving me to revisit the meaning of having a disease and how it zaps one's mental as well as physical being, and then the unprecedented number of cold, grey, rainy, stormy days, has left me flattened.
Nothing much seems to enthuse me. Granted we took a lovely little vacation to Baja California Sur to celebrate our birthdays in February. The fine dining at a few terrific restaurants, the Mojitos and Piña Coladas served pool side, the sun which never heated up more than we could bear, the day long boat ride which took us to swim with the sea lions, the arts and crafts fair in Todos Santos, the walks along the Pacific Ocean and the Sea of Cortez, all had me feeling somewhat relaxed and in fairly good spirits.
Sailing out of Cabo San Lucas to watch the whales
The lovely doll maker at the Arts and Crafts fair in Todos Santos
Walking the beach along the Pacific Ocean near San Jose del Cabo
It also helped that I didn't have my computer with me nor did I watch TV or see a newspaper for nine days. Sometimes, putting oneself on a 'news/information' holiday helps clear the clouds, if only for those cyber/news-free moments.
Leaving the sweet sun behind in Los Cabos, when we arrived in the Bay Area, a huge storm was raging on shore bringing with it high winds (we sat in the plane on the tarmac at LAX for over 1 ½ hours waiting to take off for SFO), rains, hail and flooding which didn't stop for the next week. Apparently, my 'fairly good spirits' were left behind with the sun.
Nothing seems to perk me up these days. Not working in the studio. Not singing or knitting or reading a good book. Not walking the dog on the rare sunny day. I haven't stopped going out into the world and living each day, but not much seems to be sparking that zest for life.
Last week I decided to go back to the gym again hoping to get those crazy happy-making endorphins stirred up. My endorphins are either still in deep hibernation or have gone out on strike. Five days at the gym in ten days and you'd think a little burst of good vibes would have surfaced.
Nada. Nothing. Zippo.
It doesn't help that the news around the world is dire – Christchurch, New Zealand, Japan, Libya, the Middle East in general, the union folks in Wisconsin. How to force myself to take a 'news/information' holiday when I read the newspaper daily with my morning cuppa joe? And then there's the computer, the radio, the TV. How do I discipline myself to not go there, not turn the damn things on? Not look, not listen, not watch?
And honestly, I don't know how much this "Waiting for Godot" syndrome – waiting for the night sweats, high fevers, anemia, chronic fatigue - is affecting me, but I'm beginning to think it isn't helping.
Maybe this is simply a case of "chronic disease depression"? Or more to the point, that age old question, "Is life just getting you down, honey?"
How will I know when being tired is more than just being tired?
Frankly, I'm too tired at the moment to even think about it.